Gutter Installation & Repair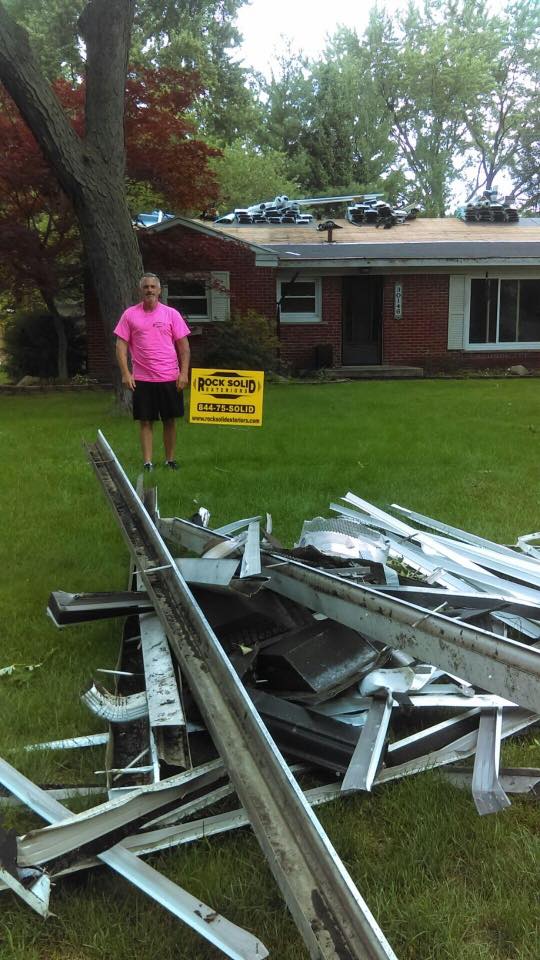 Gutter systems are troughs fixed to the roof of a building to collect rain running off a roof. The function of a gutter is to serve as a channel for the water through proper slopes to the downspouts that carry the rain water to the ground, far away from the home siding, doors, windows, and the building foundation. Gutters are small compared to other components of a building; however, they are very critical to the roofing system, and they act as an important long-term investment in the home infrastructure. A bad or damaged gutter will make a bad roof and a dangerous home.
A leaking gutter will cause a gradual destruction of a house and the damage may not be noticed until a havoc has been created. Leaky gutters have caused homeowners plenty of headache and financial loss in terms of damage to property and repairs to roofing.
It is important to have gutter system installation performed by professionals to prevent the incurring unnecessary costs of repairs for roofing and gutters. If you really wish to keep the people within your home safe, the roofing in a good condition, and the gutters in the best functional position, hire a team of gutter installation experts.
Most homeowners think that gutter system installation can be done by amateurs and not necessarily a licensed roofing contractor. Well, an amateur can install a gutter system, but the consequences may be damaging in the long run.
Your home is a great investment that requires meticulous attention. Consequently, it's crucial to hire an informed professional who doesn't just have the right set of skills, but also enough experience to deliver a high-quality job. Our installers are insured and bonded to ensure that you are protected against bad installations and damages caused by a careless installation.
We are licensed professionals who are experienced with manufacturers, quality brands, and installation procedures. We are trained to work with the unique designs and features of our manufacturers' products. We have the necessary experience and skill to handle all of intricacies involved in a gutter system installation.
To protect your home and everyone inside, Rock Solid Exteriors is the way to go. We know the type of gutter that is best for your home based on your budget, preferences, climate, and the complexity of your roofing. Plus, you get a warranty for the job done and peace of mind regardless of whether it's raining or pouring!